Jhanvi find Kabir looking a photo album and feeling sad.
Jhanvi : Kabir is there any problem ? Why you looks so sad ?
Kabir : Nothing. I was just hanged with some golden memories .
Jhanvi :Oh!! Perhaps you wants to go your Aasharam. Why don't you ask for a leave ?
Kabir didn't reacted.
Jhanvi : Kabir I am asking you something.
Kabir : Mmhh….After finishing the current project I will ask for a leave to Arun Sir.
Jhanvi : That will be better. By the way can I have a look at that photo album ?
Kabir : I am sorry you can't . It's personal.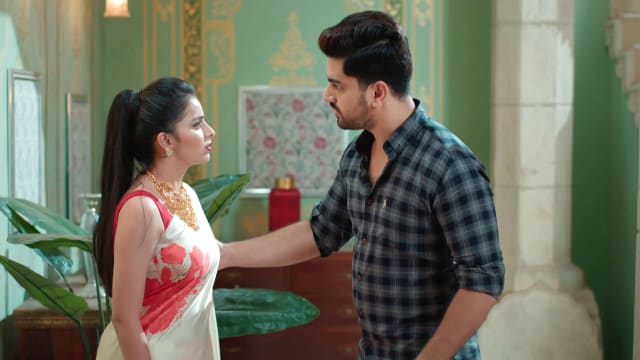 He took the album with him and rushed to Arun-Kaveri's room.
Jhanvi : What's this guy's problem ? He is reacting so weird as if I find some top secret of his life. Any ways why I am thinking on it ? His album, his personal memories – I have nothing to do with that. Still I couldn't get why he rushed towards Mam's room.
Jhanvi followed Kabir without his knowledge and hide in a corner. Kabir knocked the door
Kaveri : Beta
Kabir : Maa , it's not safe in my hands. You have to keep it with you.
Kaveri : But beta this is much valubale for you .
Kabir : I know Maa. But please for now keep this with you. And don't give this to any one until I comes and collect if from  you. Another thing don't tell about this to any one .
Kaveri : Sure beta. I will do the same. You can trust me .
Kabir ; Thanks Maa.
Jhanvi overheared this conversation feels something is hidden from her.
Kaveri : How's bahu ?
Kabir ; She's fine.
Kaveri : Take her to shopping beta . Always work-work …Work only. You both are newly married and you guys need to enjoy and spend time with each other.
Kabir : Ji Maa.
Kabir went to room. He called Jhanvi
Jhanvi : I am here.
Kabir : Where were you ?
Jhanvi : I went to kitchen for having water.
Kabir : I see. Come on get ready. We are going for shopping.
Jhanvi : Though Arun Sir has given the task for making Kaveri Mam happy I guess we don't need to follow each single thing always. Mmmh….Mam has taken her medicines and you know that medicine's effect. For hours she will be sleeping and we can lie before her.
Kabir : She is Maa and she will easily catch lies of her children. I can't lie before her .
Jhanvi : She is not your real Maa . Then why you are so serious ?
Kabir : Who told you she is not my Maa . She is always my Maa and I have seen her at that way only .
Jhanvi : Relax. I was just telling the fact only.
Kabir : Don't say it again.
Jhanvi : You are behaving so weird today.
Kabir : Leave it, and get ready.
Jhanvi : Okay
JaBir went for shopping . Kabir take Jhanvi to a restaurant . The waiter came there and he felt happy seeing them.
Waiter : Mam today will you give live performance for us ? Last time your magical tune entertained every one.
Jhanvi : Live performance!! What are you saying ? I didn't get you.
Waiter : Mam you sang well with the entire crew of musical band . Even Sir was there to encourage you.
Kabir : Seems you have mistaken . We haven't done anything like that.
Waiter : Arrey how can I forget it ? It's around 3 months back only you both rocked the stage .
Kabir : What non-sense are you telling ? We didn't know anything about it.
Jhanvi : And you says I sang well. Music and I have no connection. I simply listens some songs when I gets free time. This is the first time I am visiting this restaurant.
Waiter : No mam you and sir use to come monthly once.
Kabir : No ways. You might have mistaken , Listen I am also coming first time here. And will you just keep talking only or will you take down the order  ?
Waiter : Sure sir
Waiter noted orders and brings the food . He looked both of them
Waiter : What happened to these two ? They both are behaving so strange. But I am  damn sure these two had done performance . How should I prove it ?
After finishing food JaBir settles the bill.
Waiter : Sir excuse me, I want to show you something.
Kabir : Now what man ?
Waiter : CCTV photage. Sir believe me it was you both only
Jhanvi : Hey what's your problem ?
Waiter ; Mam just a minute
Waiter plays the CCTV photage. Jabir gets shocked to see that they were singing and dancing together .
Jabir looked each other
Jhanvi ; When I came here ?
Kabir : And when I came ?
Jhanvi : How we both danced and we don't remember anything ?
Kabir ; Is this really true or is he trying to trap us ?
Waiter : Sir you can ask other staffs, manager who were present those time .
Kabir ; Will surely do it
Jabir enquired and to their shocking surprise all of them said the same . They all have seen them as husband and wife and they were dancing and singing together.
Jhanvi : These much people won't lie
Kabir : Does that mean we both don't remember anything of our past ?
Jhanvi : Do we suffer memory loss ? Kabir let's go home. I feels head ache
Jabir went back home. They both were thinking over the happenings . As they reached home Jhanvi quickly rushed to Kaveri's room.
Kabir : Mam might be sleeping . What are you doing there ?
Jhanvi : I want to see the album. I guess answers for my confusions are lying there only.
Kabir : You can't see it.
Jhanvi ; Kabir I feels you are hiding something from me . Do we both lost memory or I only lost it ?
Kabir : Jhanvi please don't doubt at me .
Jhanvi : Then show that album .
Kabir took the album from the drawyer without disturbing Kaveri's sleep. Jhanvi opened the album and gets shocked to see her wedding pic . She was standing with another guy in that pic.
Jhanvi : When did I got marry ? Who is he ?
Kabir : He is your husband , Omkara .
Jhanvi gets shocked
Jhanvi ; My husband !!! But how ? Wait you know me right from that day only when I joined for the job, right !!!
Kabir : No. I know you very early. I was also present at your wedding as a guest .
Jhanvi : What ? Why I don't know anything ? This Omkara….who is he ? How he is connected with me ? When did this wedding happen ? Why I can't remember anything ? I lost my parents in accident and after that Arun Sir offered me this job when I was hospitalized . And you was also there with him telling that you are very much close with him. Arun Sir said he lost his son and his son's wife in accident and his wife's mental state is not well. For bringing her back to life we both need to act as married couple apart from the office jobs. You are an orphan as you said at that time and you have been staying with Arun Sir for years. Hey naa .
Kabir : That's true.
Jhanvi ; Then how my marriage took place ? And why don't I remember anything about it ? And how you can tell that you was present at that wedding ? We both started to know each other right after I joined here for job only.
Kabir : May be you knows me from that day only. But I know you very early , Jhanvi. Omkara was your life, love everything. You loved him madly than any other one .
Jhanvi  : Who is he ? I am hearing it for first time that name Omkara….
Kabir : Omkara the renowned artist, the poet who impressed you. You used to visit his art galleries , exhibhitions…
Jhanvi suddenly felt dizzy. She fell down unconscious at the floor.
Kabir screamed : Jhanvi!!!!!
Kabir thought : God !!! What I fear it happened ultimately. I tried all ways to hide the truth from Jhanvi.
Kabir took Jhanvi in his arms and took her to hospital. On the way he informed about it to Arun and Kaveri. They got worried.
Kaveri : Kabir, yeh kya kiya beta ?
Arun ; You should have told me about it. I fear about the consequence.
Kabir : Paapa time was very less. Paapa truth can't be hidden always.
Kaveri : How will Jhanvi react when she will get to know whole truth ?
Arun : We have to face it , there is no option.
Kabir :  It's high time we should tell Jhanvi about her health condition.