Omkara : I don't understand why you are appointing a body guard for me ? You know what I did with the earlier body guards.
Jhanvi : We are worried for you beta. Moreover your habit haven't changed bit
Tej : This time you won't be able to punch your body guard . Because your body guard is really very cute
Omkara : What ?
Jhanvi : Your body guard has arrived Omkara
Om turned back and looked there
Omkara : Abb kya yeh Tomboy mera body guard banega ? I feel pity on this guy. If I will punch this tom boy's nose he won't be able to bear that pain.
Jhanvi : Never do that. She will file case against you if you did it because she is a girl.
Omkara : What ?
She removed her cap and placed goggles and looked him in dabang style
Omkara was stunned to see this.
"Hello Sir, Myself Gauri Kumari Sharma. Pyaar se log mujhe Chulbul Gauri kehate hein. "
Omkara : Unbelievable , this crazy girl is my body guard ? And what was that get up ?
Gauri : Sir when the task was assigned to me I thought to bring some change . That's why I came in that style.
Omkara : There is no space for any Tom boy…I mean Tom girl. I can take care off myself.
Tej : Om, she is appointed and we have given the advance salary also.
Omkara : But dad
Tej : Chulbul Gauri, be on duty from now onwards.
Gauri : Yes Sir.
Tej : You have to keep an eye on Omkara for 24 x 7. I need all details of his activities. You know what before whomever we appointed Om has beated tham badly . But he never does that with girls and that's why we appointed you.
Jhanvi ; Om will refuse when you will accompany him. But don't listen to him at any cost. You have to obey our orders.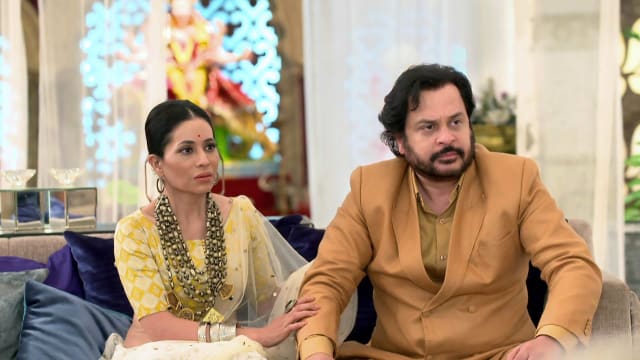 Gauri : Yes Mam. Chulbul Gauri Kumari Sharma is on duty now. Mam Can I wear my Tom Girl attire ? It will give me more confidence .
Omkara : Listen I am going to my art hub. That's my professional area and I don't want any Tom Girl there.
Gauri ; But Sir, I have joined already and for one month I can't leave you, Long Hair Boss.
Omkara : Mom,this is so irritating. Why she is calling me that way ?
Jhanvi smiled and said : Gauri just call her boss. That's enough.
Gauri : Ji Mam
Omkara : Please don't come in that tom boy get up Gauri.
Gauri : But your dad said I looks cute in that.
Omkara : Dad did you appointed her for protecting me , seriously ?
Gauri : Of course Boss. I have learned little a bit stunts too. I am cute yet bold body guard.
Omkara : For one month I need to bear this Tom Girl. God what kind of fate is mine ? Any ways dad-mom I am leaving.
Gauri : Say we both are leaving .
Omkara stared Gauri .
Omkara : I will be near the gate .
Omkara walks away .
Jhanvi : Gauri take care. Don't tell him that who are you exactly  and why we appointed you. We will tell this to him when the right time arrives.
Gauri : Okay Mam. Bye Mam, bye Sir.
Omkara was waiting near the car.
Omkara : This is the key. Now drive the car
Gauri : Boss I am sorry. I don't know driving.
Omkara : Are you really body guard ? Strange !!! If you don't know this then why you joined this job ?
Gauri : My job is to guard you only, Sir.
Omkara : God!!! Damn this girl!! Abb chale .
Gauri : Ji
Omkara : One thing you always wear this goggles
Gauri : That's my style. And don't worry I will wear that one during the chase fight scenes for giving intro scene of myself .
Omkara : Intro scene
Gauri : Just like Salman Khan as Chulbul Pandey in Dabbang. Hum tumhare itne ched karenge kee tum confuse ho jawonge .
Omkara : Bas bas!! Your dialogue delivery is nice.  Please remove it. Shall we go ?
Gauri : Ji Boss
Rikara arrives on Art Hub.
Gauri : Boss where is the washroom ?
Omkara : It's there .
Gauri : Thank you
Gauri again comes in Chulbul get up.
Omkara : So you always takes dress, cap , glasses with you for doing it ?
Gauri : Boss you don't know the power of this get up. I get more confidence when I will be in this get up.
Omkara : You are crazy.
Suddenly some one called "Om"
Rikara gets surprised to see a girl there
Gauri felt in mind : Oh!! So now there is a Chipkali too . Why in every love tale there is a Sautan ?
"Om, who is this cute Tom boy ?"
Omkara : Tom girl only. Swethlana she is my new body guard, Chulbul Gauri
Swethlana : How cute is she ? Hi , nice to meet you.
Gauri : Hello Sulthana Mam.
Swethlana : Not Sulthana, I am Swethlana. Om's P.A.
Gauri in mind : Hey Sankar Ji , yaani hamari prem kahani mein ek shoorpanaga kee entry . Kyun acche khaase Ram-Sita kee jodi ke beech mein Aisi Rakshasi ko bhejti ho ?
Swethlana : What are you thinking , Gauri ?
Gauri : Nothing. Did you came alone ?
Swethlana : I always comes alone here. What kind of question is this ?
Gauri : Kitne bacche hein aapki ?
Swethlana : OMG!!! Do you really think I am mom of some kids . I should do a make up now
Omkara : Swethlana already you are stylish diwa. There is no need of any make up.
Swethlana ; That's so sweet of you Mr. Handsome Hunk
Gauri thought : Is she just a P.A or a Flirty Girl ? Kuch bhi bolti hein. But she said truth only. He is really handsome. Any girl will stare him.
AN :Hey guys, tell me what you feel after reading this one ? I felt to write on DBO in different way and wrote this one. Please read and tell your views.