Kabir : Why you won't tell them any thing ? I mean you are attendor , but you are also a human being . They were utilizing the opportunity.
Shreya : Relax, it's my job. And I have no regrets.
Kabir ; Forget it yaar. Shall we sip some coffee ?
Shreya : Why ?
Kabir : For making friendship with coffee.
Shreya : What ?
Kabir : Yaar, I came to make you as friend, coffee was just a reason.
Shreya ; Actually I need to go somewhere
Kabir : Somewhere , you are going  home naa
Shreya : I am staying in rented house. My parents are in village .
Kabir : Oh!! So you will be finding hard to pay the rent . Your salary is also very less.
Shreya : Yeah.
Kabir : Shreya , today is treat from my side . A small coffee treat . I will pay the money .
Shreya : Thank you
Kabir : But haan I will keep the account.
Shreya : What ?
Kabir ; Just joking yaar . Chale!!
Shreya and Kabir sips coffee. Kabir looks Shreya intensely. Shreya keeps her eye sight down
Shreya : Why are you looking me this way ?
Kabir ; Shall I tell you something ?
Shreya : Yes
Kabir : You looks so pretty, so attractive . I wish I could love you
Shreya : What !!!
Kabir : Don't take wrong. I am not in love with you. Let me finish my words. Shreya instead of being a tailor's daughter if you was the daughter of a multimillionare business man definitely I would have keep all attempts to make you fell in love .
Shreya : What do you mean ?
Kabir : I will tell you a secret.
Shreya : What's it ?
Kabir : My dad invited the whole Malhotra family for dinner. This Sunday they are arriving and I am eagerly waiting to see the golden swan of mine
Shreya : Golden Swan!!
Kabir : Katha!!
Shreya gets shocked
Kabir : You are making that kind of expression as if I have captured you red handed.
Shreya : Woh..Kabir..
Kabir : I haven't finished yet. See Katha is my golden swan, I mean the lucky princess who will make me a millionare.
Shreya : Have you seen her ?
Kabir : No . How could I know her ? Mr. Malhotra called and inform my dad that he and his wife Mrs. Radhika with their one and only daughter Katha will be arriving st Sunday for dinner.
Shreya got a relief in mind
Kabir : See as Katha is one and only daughter obviously the whole property of Malhotras belongs to her. The one who marries her will get them easily. And some staffs were saying Malhotra Sir is thinking about handovering his powers to his daughter. In this company no one has seen his daughter .And you know what I am first one who will be seeing her . I am so excited to see her .
Shreya : You will love her ,Kabir ?
Kabir  : What question is this ? Of course I will love. I mean I will impress her so that she will be attracted with me and soon our wedding will be happening . Then I will be owning the whole Malhotra Industries
Shreya : So just for becoming rich business man you will like her . You won't love her truely
Kabir : Shreya , There is no time for finding true love in my life. I have to achieve everything in short span of time.
Shreya : If you find any other girl who is more richer than Katha Malhotra will you go behind her too ?
Kabir : You are talking too much, Shreya
Shreya : I am asking you the truth of your heart , Kabir . You will love a girl only for money, apart from that you don't have any feelings ?
Kabir : May be , But I am not a sentimental fool to believe in those things. True love is just good in movies and poetry books only, it's not practical in life
Shreya : Kabir you are mistaken. Keep your hand at your heart and close your eyes . Then think about true love and tell me what you sees there .
Kabir : What kind of stupidity is this ?
Shreya : Please Kabir, for your friend's sake please do it.
Kabir : Okay
Kabir keeps his palm at his heart and shuts his eyes. He sees a girl's smiling face . Unknowingly Kabir also smiled
Shreya : What did you see Kabir?
Kabir replied without opening eyes : Shreya !!
Shreya blushes with a smile . She walks away from there shyly
Kabir opened eyes and fnd that Shreya has left .
Kabir thought : Why I find Shreya ? Is it true that my heart has started feeling something for Shreya !!! But my brain says I shouldn't forget my dream . But unknowingly I am getting attracted towards Shreya's goodness . What's happening with me ? When Shreya is with me why I am feeling something new ?
Kabir started walking on the road. On the whole way he was thinking of Shreya. On the other hand Shreya was also walking through the road .She was also thinking about Kabir .At a point both of them meet face to face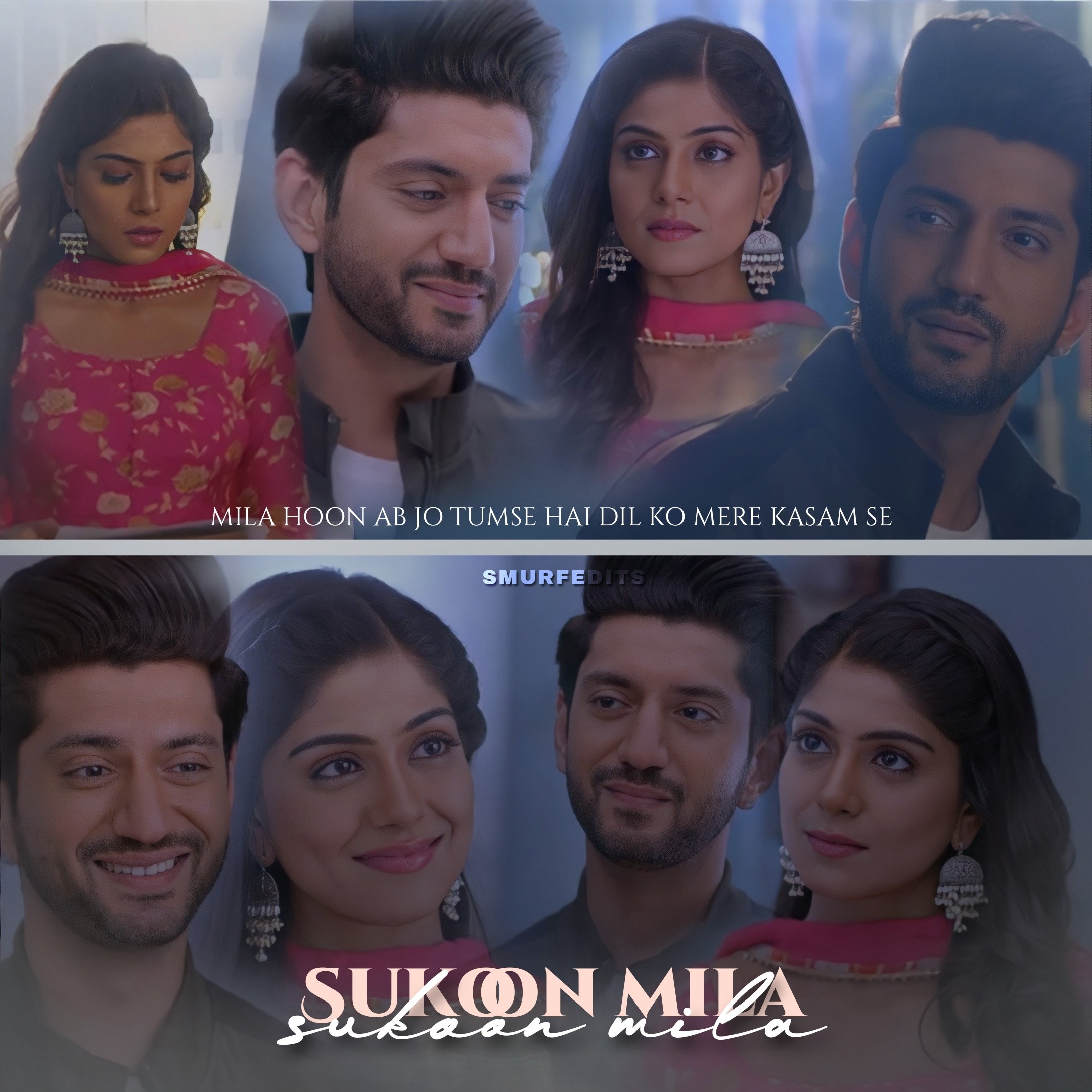 Both of them looked each other's eye for a while and lost themselves in each other at that moment.
Kabir : Shreya actually I saw ….
Shreya : You said your heart's words. It's enough for me , Kabir
Kabir ; Shreya !!
Shreya ; Close your eyes and just dream Kabir .
Shreya keeps her palms over his eyes and smiles . She also shuts her eyes . They both sees a dream at which they are doing romance
https://www.youtube.com/watch?v=PoKXae1HNb4
They couldn't dream long as Dheeraj shouted Shreya . Kabir and Shreya got back their senses.
Dheeraj : What are you doing Shreya ? You don't feel shame to stand close with a boy in public road .
Shreya ; I am sorry.
Dheeraj : And you Kabir ? What's this ?
Kabir : Sir …Woh…..
Dheeraj : Kabir tomorrow is Sunday and I will be in your home with my family . I have to discuss an important matter with your dad .
Kabir : Ji!!!
Shreya : Important matter ? What's that ?
Dheeraj : It's none of your business. You are just attendor, remember it .
Kabir ; Don't scold Shreya ,Sir
Dheeraj : Why I can't scold her ? She is my staff , I can do whatever I want.
Kabir : This is public road and here she is not an employee and this is not an office . You can't do it.
Shreya gets mesmerized with his reply.
Kabir walks from there.
Sunday , Kabir's home
Deepika : Now why you feels sad ?
Kabir : Nothing mom
Rupesh : You got the easiest way of success, now Malhotra Ji is coming here with his family.
Deepika : And as your wish they are going to talk about the alliance of yours with their daughter Katha .
Kabir : What ?
Rupesh : Kabir you can tell this to an attendor , not your parents ?
Kabir : Did you met Shreya ?
Deepika : She only came here and she has bought this dress for you . She struggled a lot to get money for buying this. After office hours she worked as a supplier in a small restaurant . She said you have to be good looking when your golden swan arrives
Kabir : Mom when did she came here ? And why you both didn't tell me anything ?
Deepika : Yesterday only she came . That time you was not here. You went for watching movie
Kabir : Fact is I don't remeber what I watched there . I mean only my body was there, my mind was somewhere else.
Deepika : Kabir !!
Rupesh : Of course his mind is full of Katha. Now he will also fell in love like the way we are
Deepika and Rupesh held each other's hand happily
Kabir ; I don't know , I am feeling so much …..I don't know what it is ?
After a while Malhotra family arrives there .
They gets a hearty welcome from Kabir's family. Kabir was still gloomy .
Deepika : Kabir look at the girl
Kabir looked and gets stunned to see the girl