Ritesh and Indhu went home. Valsa Aunty handovered the baby.
Valsa : Indhu yeh kya , sindoor nahi pehani tum ne ?
Indhu suddenly realized it and touched her forehead.
Valsa : Ritesh beta jaldi se isski maang mein sindoor bhar le .
Valsa gave a vermillion box to him .
Ritesh stared Indhu. Indhu gets tensed.
Ritesh : Baad mein karenge naa, Aunty ?
Valsa :Baad mein kyun, patni hein teri. You have to do it.
Ritesh nodded head and filled Indhu's forehead with sindoor. They both looked each other . Meanwhile baby Kiara started crying.
Indhu : Mumma aa gayi, baby. Now you don't needs to cry.
Indhu and Ritesh goes to their apartment and Ritesh started looking on Indhu when she was caring baby my making baby to lie at her lap.
Ritesh : Indhu !!
Indhu : Haan Ritesh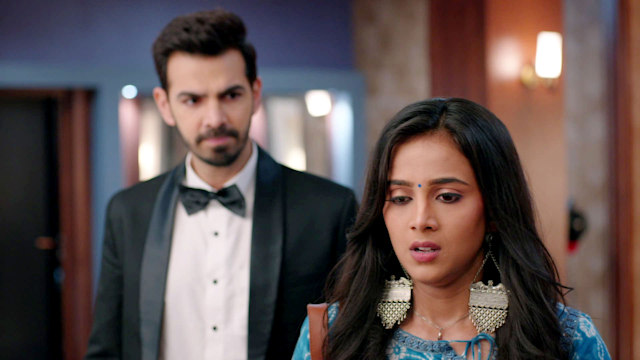 Ritesh : Do you remember that we need to return baby to Prateek bhaiya's house.
Indhu : Oh yes. But I am so attached with Kiara. Now I can't live without her .
Ritesh : The same is with me also. How will we leave her to them ?
Indhu : Why can't we adopt the baby and take care off her whole life ?
Ritesh : Indhu, we both are together for one year only. Afterwards our company will send us to two countries. You will be on Dubai and I will be on Canada. Till that time only we are living together . And at that time who will take care off baby ?
Indhu : I don't know all those things. Kiara is my baby , that's it.
Ritesh : Indhu what people will think ? This colony people don't know the real truth of ours. If they gets to know it then they will send us from here.
Indhu : So what ? Humein thodi naa koyi ghar hein. We both are orphans.
Ritesh and Indhu recalled another  flash back of their childhood
Matron : We are closing this aashram . Now you both needs to find any other place
Indhu : But mam where will we go ? Other children of these orphanage have been adopted by some people. But no one came to adopt us.
Ritesh ; Mam please don't send us.
Matron : I am helpless bacchon. This Aasharam had only 8 children all others were adopted by few couples and this Aasharm is running in loss. Moreover I am an Aids  patient and my days are counted. I haven't paid the rent fully. At this condition I can't run this Aashram.
Ritesh : Mam you are like our Maa. We can't live without you.
Matron : Try to understand bacchon. I can't do anything. I am going to hospital for doing some cleaning work. If I will live or die no one is there to take care off me. My disease is dangerous and it can adversely affect you . Please forgive this Matron. Keep this money with you and  catch that bus and go to Bangalore.  Ritesh , I am giving you a card. You both go to this address and give this letter. They will help you.
Indhu : Matron don't leave us, please.
Matron : There is no option beta. Matron made them to sat at the bus and waved hand when the bus was going. Ritesh and Indhu watched her with teary eyes. They both after the two hours journey reached Bangalore. The city was quite new to them . Yet they managed to find the address which Matron Mam gave.
Prabhakar : Kya museebat hein ? Already didi left home with that Mohmmed as Maa didn't approved their marriage as it was a Hindu-muslim wedding. Post Mohammed's death didi started running orphanage and now she is suffering Aids and also offered these two burden towards me .
Ritesh and Indhu felt sad while hearing it.
Lakshya : Prabha!!! Your didi is mad , let me tell you if she dies you should never go there.
Prabhakar : Why I will go there ? I hate her always . Bacchon just go away from here. I can't afford you.
Lakshya : Wait !!! Prabha just a minute
Lakshya called her husband Prabhakar inside and whispered something.
Prabhakar : You both can stay here at one condition only. You have to do household works .
Ritesh : But we are children and we need to go school.
Lakshya : Think it well. If you won't stay here and went away you will face big threats. There are some people who kidnaps children and make them as blind , beggars so and so.
Indhu : No!! Please don't say anything about it.
Prabhakar : Then start working now. We will gave you food for three times a day.
Indhu : But our studies
Lakshya : Studies !! You orphan kids !!! If you study or not who cares about it.
Ritesh : If you won't send us to school then we will not stay here .
Lakshya : You both are child labourers here. If you won't obey me then I will harm you both.
Lakshya started beating them with a stick. Ritesh and Indhu screamed in pain.
Indhu's eyes were drenched in tears. Ritesh held her hand and called her
Ritesh : Indhu
Indhu : Ritesh we faced all struggles, all hardness. For a while I went back to those bitter days when we were treated like slaves.
Ritesh : Indhu!! Never think about it. With much effort we have crossed those things and finally we are here.
Indhu : Ritesh ,we can't make Kiara as an orphan child. She should get care of mom and dad.
Ritesh : But we are not her parents , we are not married couple.
Indhu : Toh why don't we both get married for Kiara ?
Ritesh : Indhu
Indhu ; See we have lied here that we are married couple. For adopting Kiara legally we have to go through certain formalities. Just for Kiara we will do a register marriage privately .
Ritesh : And what about going Dubai and Canada ?
Indhu : I am not going anywhere leaving Kiara. Tumhein jaana hein toh tum jawon
Ritesh : I am also not going. After working here if we refuses to accept the project may be company will give a punishement transfer. Or may be we will lost job. But we can find another one also .
Indhu : Thanks Ritesh for agreeing with me .
Ritesh : Finally the lie is going to become true. We both are going to tie knot.
Indhu : Ritesh tomorrow itself we have to do it .
Next day 
Valsa : You guys are already married then why you are doing it ?
Indhu : That was a lie for getting home. Because your colony won't give apartments to unmarried girls and boys. So we pretended we are married couple .
Valsa : What ? But Kiara ?
Ritesh : She is not our baby, we adopted her . Actually through the security staff Prateek bhaiya we came here. That time I went to meet President of your colony. He was asking me where is my wife and do I have a baby. Prateek bhaiya lied that I and Indhu are married and we have a baby too. Kiara is actually from the chawl which he lives, her parents are no more . Only her kaaka and kaaki  with their children are present there. They don't want to look after baby Kiara. I paid some money and bought Kiara because they tortured her lot and due to that thing her tiny legs are affected . She can't walk without the help of a walking stick or crutches once she grows up.
Valsa was shocked to hear this truth.